Description
Ingredients used for Ananta Face Serum
Hemp Seed Oil, Rosehip Oil, Olive (Olea Europaea) Oil, Kumkumadi Oil,
Jojoba Oil, Coconut (Cocas Nucifera) Oil, Shea Butter, Cocoa Butter, Aqua, Vegetable Glycerine, Aloe Vera(Aloe Barbadensis) Extract, Cucumber(Cucumis Sativus ) Extract, Papaya(Carica Papaya) Extract, Saffron(Crocus Sativus) Extract, Xanthan Gum, Glyceryl Stearyl Citrate, Ceto Stearyl Alcohol, Vegetable Squalene, Carrot Seed Oil, Sodium Gluconate, Vitamin E Acetate, Ethylhexylglycerin & Phenoxyethanol, Essential Oils.
Benefits of Ananta Face Serum
High in Vitamin A and C, this elixir is a one-stop solution for repairing and rejuvenating tired and ageing skin. Vitamin encourages skin cell turnover and Vitamin C aids in cell regeneration, boosting overall radiance. Kumkumadi is an effective ingredient for treating and preventing visible signs of ageing skin, such as wrinkles, diminished elasticity, increased fragility, and dryness. Giving it a radiant and youthful appeal. Rosehip oil aids in the production of collagen. This Hemp Face Serum helps in fighting signs of premature aging.
Hemp (Cannabis sativa) is the same species of plant as cannabis. Unlike cannabis, it contains very low levels of delta-9-tetrahydrocannabinol (THC).
Both hemp and cannabis also contain cannabinoids such as cannabidiol (CBD), cannabidivarin (CBDV), cannabigerol (CBG), and others. These seeds contain fats, protein, and other chemicals.
People use them for constipation, high cholesterol, eczema, arthritis, and many other conditions, but there is no good scientific evidence to support these uses.
Don't confuse these with Canadian hemp, hemp agrimony, cannabis, or CBD. These are not the same. Unlike cannabis, it is legal to sell hemp and hemp products.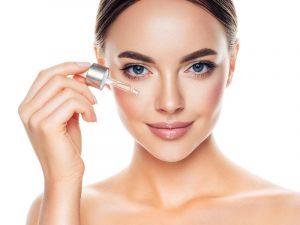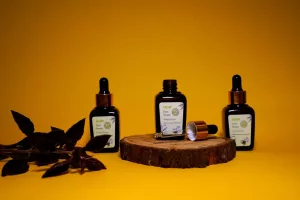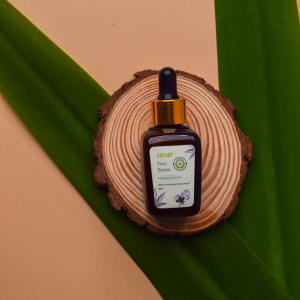 More about hemp used in Face Serum
The plant is a stout, aromatic, erect annual herb. The slender canelike stalks are hollow except at the tip and base. The leaves are compound with palmate shape, and the flowers are small and greenish yellow. Seed-producing flowers form elongate spikelike clusters growing on the pistillate, or female, plants. Pollen-producing flowers form many-branched clusters on staminate, or male, plants.
It originated in Central Asia. Hemp cultivation for fibre was recorded in China as early as 2800 BCE and was practiced in the Mediterranean countries of Europe early in the Christian era, spreading throughout the rest of Europe during the Middle Ages. It was planted in Chile in the 1500s and a century later in North America.
Industrial hemp is a class of cannabis sativa that contains no more than 0.3% tetrahydrocannabinol (THC). People grow them for a variety of medicinal and industrial uses.
THC is the primary psychoactive compound in cannabis plants. This compound binds with receptors in the brain and produces the "high" that many feel when consuming products with high THC content.
People typically process industrial hemp into one of three forms.
Oils may contain plant content from the plant's leaves, seeds, or stems, whereas seed oil processing exclusively uses seeds.
Seeds and oils are the primary forms that people use for dietary or nutritional purposes.
Uses
The seeds are a nutrient-dense foodstuff with a variety of uses. People often use the seeds as part of savory and sweet dishes for their mild, nutty flavor.
The seeds should be kept in an airtight container in a cool, dry place. Most hemp products unlike Face Serum require refrigeration after opening.
People can incorporate these products into their diet in several ways, including:
using seed oil to make a salad dressing and face serum
sprinkling some seeds on salads, rice pilafs, oatmeal, or yogurt
adding seeds to baked goods such as whole wheat muffins
People can also use seeds and oils as the basis of dairy-replacement products, including:
milk substitutes
cheese substitutes
protein powder
Hemp seed,  protein, and seed oil are commonly consumed in foods. And in this case face serum.
As medicine, there isn't enough reliable information to know what an appropriate dose might be. Keep in mind that natural products are not always necessarily safe and dosages can be important. Be sure to follow relevant directions on product labels and consult a healthcare professional before using.