Description
The main ingredients in this Ayurvedic-inspired face wash are hemp seed oil and kumkumadi. Hemp seed oil is a superfood for your skin because it is high in vitamin E and has a golden ratio of omega 3 and 6. Kumkumadi is a saffron oil formulation that promotes a glowing complexion, evens out skin tone, and aids in cell regeneration, resulting in youthful skin with regular use.
Ingredients of  Face Wash with Hemp Seed Oil & Kumkumadi:
Aqua, Glycerin, Saffron (Crocus Sativus Flower) Extract, Sandalwood (Santalum Album) Extarct, Hempseed (Hempseed (Cannabis Sativa Seed) Oil, Coco Amido Propyl Betaine, Sodium Lauroyl Sarcosinate, Lauryl Glucoside, Aloe Vera (Aloe Barbadensis) Gel, Gudhal (Hibiscus Rosasinesis) Extract, Neem (Melia Azadirachta) Extract, Tulsi (Ocimum Sanctum) Extract, Turmeric (Curcuma Longa) Extract, Sodium Gluconate, Sodium Benzoate, Potassium Sorbate, Fragrance/ Essential Oils.
HOW TO USE ?
Step 1. Take pea size amount on your palm.
Step 2. Make lather using water.
Step 3. Apply gently to your face.
Step 4. Wash it off and pat dry.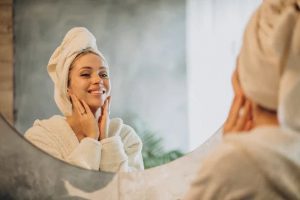 BENEFITS
– Promotes a glowing complexion
– It aids in skin tone evenness
– Aids in cell regeneration
– Helps treat hyperpigmentation.