Description
The evolution of the modern Neemwood tooth- brush has its origin in chewing sticks that were used by the Babylonians as early as 3500 BC . The Neem tree originates from northeast India. It is also known as Margosa or the Persian lilac. Neem has been broadly used in Ayurveda, Unani and Homoeopathic medicine and has become a cynosure of modern medicine .
In India this plant is referred to as the village pharmacy because of its ability to cure many disorders ranging from bad teeth and bed bugs to ulcers and malaria . In rural areas of India, the twigs are used as toothbrush to prevent gingivitis. Neem and Babool (acacia sp) chewing sticks (datun) have been used as oral hygiene measure .
100% Pure Neemwood Handle unlike most who pass on strong wood as neemwood. Pure neem wood makes it durable and longlasting.

Bio-degradable and chemical free. No sharp edges. Safe for children and adults.

Charcoal, activated bristles for teeth whitening. Soft bristles in wave pattern for better cleaning.

100% BFA free, Fungus Free. Removes foul smell naturally.

Tongue cleaner removes harmful bacteria. Eco-friendly

Take complete utilisation of pure neemwood medicinal properties and go for a complete oral care.
Neem works as a mouth freshener. It helps to remove the bad odour from your mouth to keep it fresh. So using our organic toothbrush will not only clean your mouth. It will also keep it fresh for hours.
Our organic toothbrush has a modern design that completes every bathroom design. Neem wood  toothbrush is lighter and dry much faster than plastic toothbrushes. Thus making it convenient to carry everywhere you go.
Switching to an organic toothbrush helps save the environment. Especially the oceans, from being destroyed. Using an organic toothbrush is as effective as a manual plastic toothbrush. The difference is that handle is made from wood which is strong and biodegradable. And it has no negative impact on the planet. You don't even need to use a recycling program to responsibly discard your old toothbrush.
You can throw used neem wood organic toothbrushes in your backyard compost pile. Let's make little changes in our lifestyle that can go a long way in caring for Mother Earth.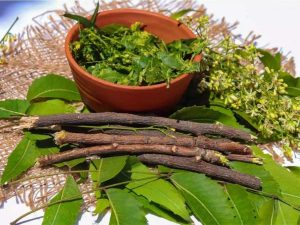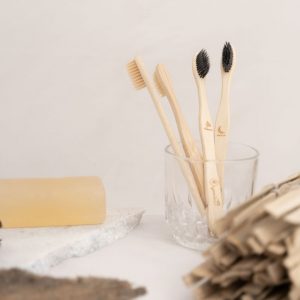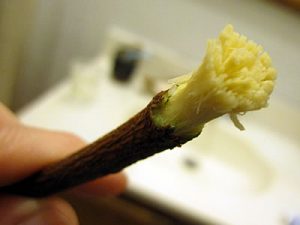 Advantages of our Neemwood Toothbrush in a jist:
Protection against bacteria
Maintains alkaline level
Strengthens your gums
Prevents plaque
It Eliminates bad odour
100% Neem Handle.
Whitens your teeth.
Recyclable Packaging.
A sleek, natural look and feel
BPA-free
Eco-friendly and biodegradable
Dental caries is one of the most common human diseases that affect the vast majority of individuals. Cross sectional and longitudinal epidemiology surveys have implicated Streptococcus mutans in the aetiology of human dental caries . Inhibiting the growth of the Streptococcus mutans in the oral cavity would lead to healthier teeth and gums.
Although the anti-bacterial effect of Neem has been proven, there is still a grey area concerning its effective concentration against the Streptococcus mutans specifically. After extensive exploration of the literature, we found dearth of data regarding effect of Neem and Babool chewing sticks (datun) extracts on Streptococcus mutans. So the present study was undertaken with the aim of evaluate the effectiveness of traditionally used neem and babool chewing sticks (datun) extracts on Streptococcus mutans and with objective of comparing the effect of neem and babool chewing sticks aqueous extract on Streptococcus mutans.