Description
Our Black Pottery Clay Cup is:
100% ECO FRIENDLY TEA CUP. Since Longpi pottery is made from grounded and powdered rocks especially Serpentinite and weathered rocks, they are made of all natural raw materials. The cane finish on some of the items is also natural and 100% ecofriendly
COMPLETELY HANDMADE TEA CUP. All the Longpi products are handmade where the artisans mould the products with hands, no machines or electrical supplies are used
NO CHEMICALS USED. The raw materials used in making of this Tea Cup are completely natural since no chemicals or artificial products are used
BIODEGRADABLE. Longpi pottery items are naturally biodegradable due to the raw materials used in making these fine pottery items
MICROWAVE SAFE. CONTROLS MORNING SICKNESS AND TRAVEL SICKNESS. TREATS DIABETES AND HYPOGLYCEMIA (LOW BP)TOO. This tea cup is not only safe to heat food in a microwave oven but also controls morning sickness in pregnant women and removes travel sickness in general. Also is highly effective for patients suffering from low BP and Diabetes.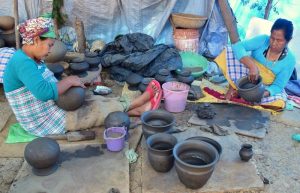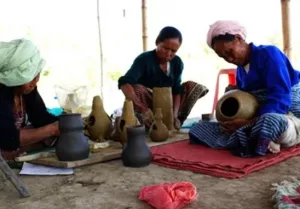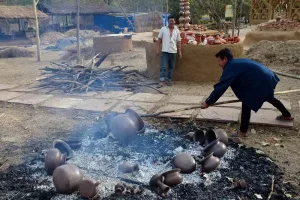 There are very few things in life that have the ability to evoke emotions, each time we witness them. One of those things is the elegant art of Longpi pottery – an art form born in the small village of Longpi in Manipur that has now traveled far and wide, claiming its rightful place in the hearts of art connoisseurs across the world. If you know of the craft, you are familiar with the way it embodies perfection. If you are new to this world of black stone pottery, let's discover the origin, the process, and the many benefits of this Manipur pottery.
The Tale: Black Pottery In Manipur
Longpi village is the birthplace of black stone pottery in Manipur; the art is called Longpi Ham locally. This is a rare form of pottery where the craftsmen do not use the pottery wheel.
The pieces (cups, pans, vases & more) are made from a mixed paste of ground black serpentinite stone and special brown clay. The clay is native to only Longpi village.
Back in the day, these cups were primarily used as a cooking utensil among the Tangkhuls before aluminium cups entered the picture. Longpi Pottery is now used both for cooking, and for storing food and beverages. But, where did it all truly begin? It is believed that Longpi Pottery took shape and form by the grace of Goddess Panthoibi. The craftsmen regard the Goddess as the mother of artefact-making.
Distinguished by its surreal black glow and rustic matte finish, this Manipuri pottery carries great historical significance. Longpi vessels were exclusively used in royal rituals, religious ceremonies and meaningful gatherings. In mythology, the earthen bowl is said to resemble a womb, carrying healing medicinal properties. In the past the privilege of owning black pottery pieces was restricted to the wealthier class of the society. Today, it adorns many homes that have plenty of room for art that is both exceptional and functional.
Black Stone Pottery: Process
Great works of art demand patience and perseverance, only then can they stand a chance to be eternal. At Pratha Ayurveda, each cup is handcrafted by artisans who live to serve a legacy. Here is the process adopted by them:
-Our craftsmen decide a clay ratio as per the size of the piece and knead clay dough.
– This clay dough is then left to age for a few days.
-After that, the dough is shaped by hand or in a mould and left to dry under the shade, until it takes on a greenish hue.
– On drying, the shape is burnished to get the perfect finish.
– At this stage, some designs require our craftsmen to make holes for cane accents.
– Now each piece is dried under a shade and sun-dried further to properly dehydrate the clay.
– Post that, the pieces are bisque fired at a temperature of 700 to 900 degree Celsius.
– Finally, some leaves are rubbed onto our scalding artefacts to cool them until ready.
Longpi Pottery Benefits & Facts
-The colour (black) is naturally obtained. No chemicals or paints play a part in it.
-No chemicals, machines or wheels are used in the making of the bowl pieces.
-The pottery form is responsible for creating employment opportunities in rural areas as the entire process is handcrafted.
-Longpi bowls and pans are incredibly flexible in the sense that they can be used on gas stoves, open fire, and can be tossed in the oven as well.
-The bowls are great for simmering and slow cooking over a low flame for a longer period of time to bring out all the delicious flavours from the ingredients.
-The cups and mugs are ideal for coffee, tea, juices or even chilled beer.
-Longpi products do not harm the environment in any way. The raw materials used in the pottery are completely natural. The products are easily biodegradable.
Experience The Best Of Black Clay Pottery In India
Crafted by hand-patting clay, our unglazed pieces acquire their natural sheen from an age-old low-firing process. Moreover, Longpi chips on ageing, creating unique patterns on each artefact; the perfect homage to the beautiful imperfections of the handmade.